By 2019, 83.6% of US digital display ad dollars will transact programmatically
US programmatic digital display ad spending will reach $32.56 billion by the end of 2017, eMarketer projects. By 2019, more than four in five US digital display ad dollars, or $45.72 billion, will flow via automated means.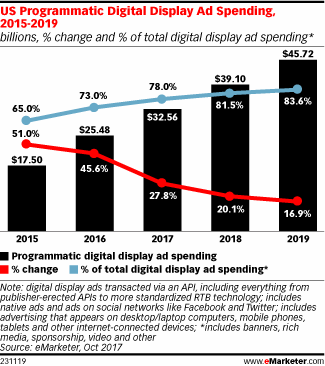 US Programmatic Digital Display Ad Spending, 2015-2019 (billions, % change and % of total digital display ad spending*)
Continued emphasis on advertising quality and brand safety will accelerate spending on both programmatic direct and private marketplace (PMP) deals. By 2019, the combined share of these two transaction types will be 79.6% of the total programmatic pie.
2017 will be the first year that the growth in open-market spending slips into the single digits. Yet the continued adoption of header bidding will help keep dollars flowing there over the forecast period.
See more at: emarketer.com