But interstitials and some types of video ads were seen less favorably
In the battle between the mobile web and native apps, advertisers have already declared a clear winner, at least in the US. eMarketer estimates that more than three-quarters of mobile ad spending in the US—a figure equal to $45.26 billion—will flow to native apps this year, with the balance spent on the mobile web.
But just what sort of mobile app ad formats are playing well with audiences? In Q3 2017, mobile advertising and marketing platform AdColony surveyed mobile users ages 14 and older in Europe (including some in the Middle East and Africa) and North America to find out.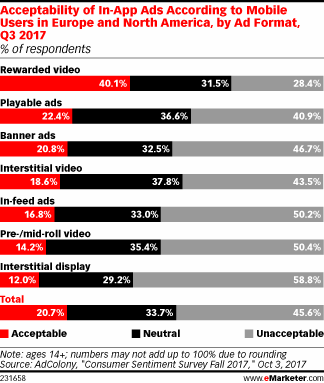 It turns out mobile app users want to get something in return for watching an ad. The survey found that 40.1% of respondents deemed rewarded video ads as the most acceptable ad format, the highest rate of any ad mentioned. Playable ads, which let viewers play part of a game immediately, ranked second, considered OK by 22.4% of those polled.
See more at: emarketer.com