Ecommerce giant is said to be looking into video ads
Amazon is reportedly in talks to incorporate more advertising within its video content.
While Amazon is first and foremost known as an ecommerce vehicle, it also generates significant digital ad revenue. eMarketer estimates that US digital ad revenues for the company are expected to reach $1.65 billion by the end of this year. At that level, it would make up 2.0% of total US digital ad spending.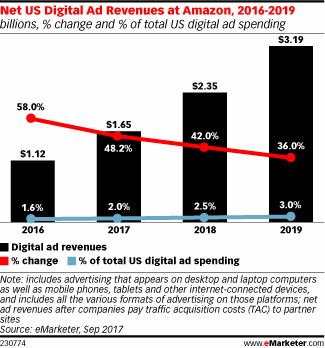 But Amazon's ad offerings are fairly unusual and video has not been a focus.
"Amazon is capable of building a video ad platform to rival the likes of YouTube, Facebook, Twitter and Hulu," said Paul Verna, principal analyst at eMarketer.
However, Amazon will have to tread carefully to avoid upsetting its users, who are accustomed to an ad-free video experience. "It's easy to envision Amazon selectively serving ads on part of its platform, such as Twitch, but harder to imagine a scenario in which episodic shows on the subscription tier are interrupted by ads," he added.
See more at: emarketer.com